My journey to Heroes First begins with me growing up and moving a lot due to the fact that my dad was working in the information technology field in which he set up programs across the US and overseas. In fact, I've probably lived more places before I joined the Marine Corps than while I was in the Corps!
Growing up we had the opportunity to live in various places including: Michigan, Ohio, California, New Jersey, England, and Scotland, and then I joined the Marine Corps. Besides moving around a lot, one of the most influential times of my life was probably after high school when our family moved back over to England. I ended up attending the University of Glasgow in Scotland for four years and it was a tremendous experience filled with culture, food, people, and travel. Once I returned to the US, I did everything from work at Samsung loading and unloading trucks to working at General Nutrition Center. After two years of working at various places I felt like I wanted something more consistent and wanted a challenge.
The Difference
I never really considered the military before I joined, but I thought it would be a great way to gain new skills, and get paid while eating for free. I spoke to the Marine recruiter and was impressed by his professionalism and demeanor. I ended up enlisting in the Marine Corps Reserve at the same time I was pursuing a commission with the officer recruiter. I graduated boot camp, Marine Combat Training, my job school, and Officer Candidate School, all within a year—what a rollercoaster of a ride!
After I was commissioned, I ended up working in the financial management field ensuring that Marine units and commanders had the money they needed to accomplish the mission. I deployed to Iraq in 2004 in support of Operation Iraqi Freedom and then headed to Hawaii to work information operations for a combatant command.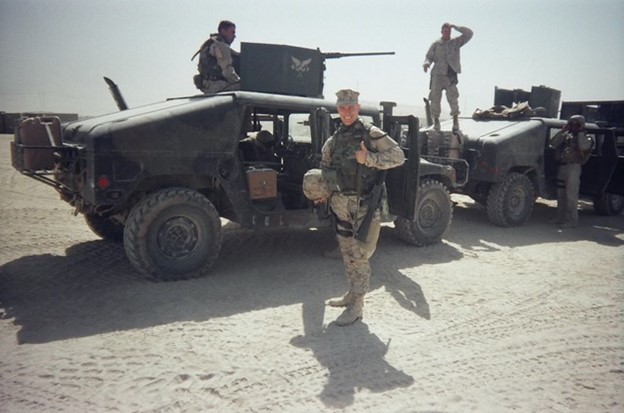 Eventually my family ended up in Okinawa, Japan where we were blessed to spend seven years across different commands. I was able to travel in support of numerous military exercises to other countries such as Australia, Thailand, Nepal, Korea, Indonesia, and more. The food, culture, people, and environment were incredible. Okinawa is Japan's vacation spot with its gorgeous beaches, clear water and warm weather.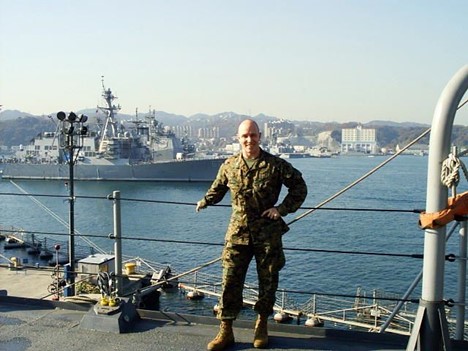 "Retirement" Transition
After Okinawa, we returned to the US and I worked at Headquarters Marine Corps supporting the programs and resources across the Corps. Eventually, I ended up working at the hub for all training and education across the Marine Corps and retired after 26 years of service. Thinking back to when I came into the Corps as an enlisted Marine, my plan was to only do four years, take the experience and do something else. I've been blessed to work with tremendous Marines, civilians, and sailors over the years and supporting them was the reason I stayed in as long as I did.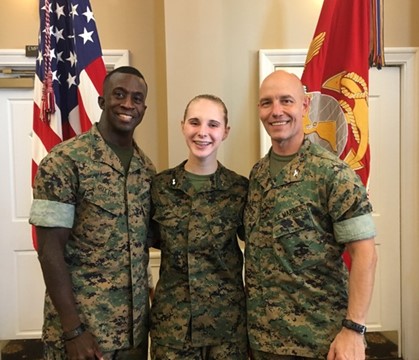 Over my career I've personally bought and sold homes, so I was familiar with Realtors and lenders. I ran into Sam Royer, National Director of Heroes First Home Loans, when we bought a home and I told him that as a "finance guy" I'm going to shop at banks, credit unions, other lenders, etc. and if he didn't have the best rate and the lowest fees, I was going to use someone else. He told me he expected nothing less. I am EXTREMELY frugal and do my homework before spending money. I was impressed with not only the Heroes Credit on my mortgage, but also with the interest rate, and the superior customer service. I always felt like I was the only customer. I was actually so impressed I used Heroes First twice!
Coming from the finance field in the Marine Corps, I could choose to work across the industry in the private sector or for the government, but I decided to join Heroes First Home Loans because of the selflessness that is at the heart of the company. Each person has their own story, but the theme is that we look forward to truly serving those who serve in our communities, whether you are military, law enforcement, teachers, firefighters, civil service, healthcare, or ministry. I am very lucky to be in a position where I can continue to serve!
If I can help you in any way, don't hesitate to reach out.
Semper Fidelis,
William M. Schrader
Colonel, USMC (Ret)
Home Loan Specialist, NMLS# 2051908
Heroes First Home Loans
www.colschrader.com